Sports betting is exactly what it sounds like: gambling and playing the odds on sports events. You predict the results and place your wager on what you think will be the outcome. While it runs the gamut from football and horse racing to boxing and mixed martial arts, political races can also be in the running, as can awards shows like the Oscars and Royal baby births.
Although sports betting is most often focused on a game, make no mistake, it's big business. A 2017 report by the American Gaming Association estimated up to $400 billion was bet each year on an estimated gross income of between $5 billion and $20 billion, just for sports betting.
In the U.S., football — both the NFL and college — is responsible for billions of dollars worth of betting each year.
People have been betting on games as long as they've been played. And while it has long been legal in Nevada, it took a U.S. Supreme Court decision in 2018, which repealed a federal ban on sports betting, for other states to follow suit — and not all have.
How does sports betting work? The two most common ways to bet on a game or event? Point spreads and Moneyline. The easiest of the two is a Moneyline bet, as it's simply a call about which team or person you expect to win without the complication of a point spread. Whether by 1pt or 40pts a win is a win. A point spread is about who wins and by how much. As a newbie, while betting on anything but who will win might seem daunting, for many it's the more interesting route to take. From favourites and underdogs to over and under, The Action Network has set out the basics for beginners on how to bet on sports.
The first thing to know is that winning a bet isn't quite a simple as picking the winner. Each bet is based on odds, which relates to the likelihood of an event happening, and so having a sports betting strategy is a good idea (more on that later). They're set by a bookmaker, who is essentially a risk analyst looking to make money. They come up with a realistic probability of an event occurring and translate that into odds, which then determines the amount of a cash payout, with the help of an algorithm.
While bookies don't share how they land on their odds, they do consider a range of factors, including injuries, past performance, performance at home vs. on the road, to calculate a spread that offers them the best return. And like any gamble, you can be sure the house always wins.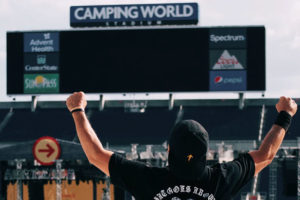 That said, James Holzhauer has more than held his own. Since college, he's been bankrolling his life as a sports gambler and became a household name in 2019 after a record-setting run on Jeopardy with 32 straight wins and $2,464,216 in total winnings. His last 'real' job was slinging fried chicken when he was 16.
His approach on the show was much the same as his approach to gambling: "I sketched out what I believed to be my optimal strategy for Jeopardy: Play fast, build a stack, bet big, and hope for the best," he told The Atlantic in April.
There's nothing he loves to bet on more than the NFL. In an appearance on the Bet the Process podcast, Holzhauer said one of the biggest edges you can get betting on the league in Vegas is to place a futures bet on a team that has a good shot of earning a first-round bye in the playoffs.
"In football, one of the big sources of edge I've had for years and years now, and I'm still waiting for it to disappear, is sportsbooks underestimate the advantage going to the 1 and 2 seeds," he said. "I'll virtually never place a futures bet on a team unless they've got a really good shot at earning the first-round bye. The math is so, so slanted in favour of those teams. There are times when they don't understand the tiebreakers."
Holzhauer is also big on in-game betting. He said that gives him an advantage on the house as the sportsbooks can overcompensate for the team that's winning at halftime, which can make the team that's trailing a solid bet. That's particularly true when they're not losing by much.
"Football halftimes are big," Holzhauer told the podcast. "In-play football betting, I think they make a lot of mistakes on that."
He's gotten so good at betting on the NFL that most outfits in Vegas have capped the amount he's allowed to wager. His success is probably due to the fact he learned early on to never bet with his heart — only his head. After all, research is key in this game.
While you may not find yourself in Holzhauer's league, his sports betting strategy above is sure to set you on the right path.
But what do you do if you win?
Unlike in Canada, gambling wins in the United States aren't tax-free. So rest assured the Internal Revenue Service will claim its share. In fact, the agency will automatically withhold up to 30 percent. That's not to say it will get to keep it, however. Refund Management Services has been helping clients reclaim their winnings since 1998. Get in touch to find out how you can reclaim yours.